Home

/

Dementia friendly school is a first for Caerphilly
Dementia friendly school is a first for Caerphilly
1 March 2018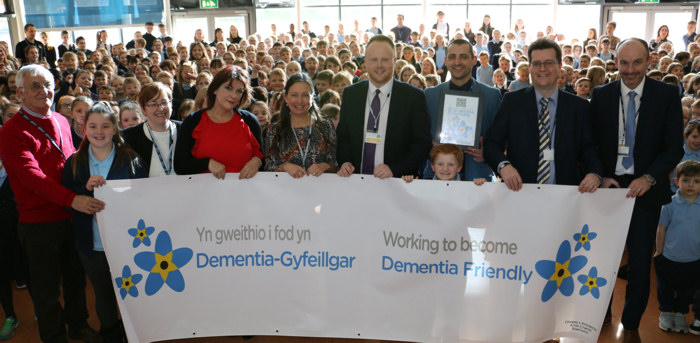 Rhiw Syr Dafydd Primary School was recently presented with a Dementia Friendly award.
On Thursday 15th February, pupils and staff from Rhiw Syr Dafydd Primary School were the first in Caerphilly to be presented with a Dementia Friendly Award from the Alzheimer's Society as a result of training sessions delivered to both pupils and teachers at the school.
All pupils who at Rhiw Syr Dafydd Primary School were made aware of Dementia in an age appropriate way. This included the junior pupils attending workshops with Phil Diamond, Dementia Theme Lead for Gwent transformation Team and an assembly for Foundation pupils which featured around the reading of 'The Elephant Who Forgot' – a story aimed at raising awareness of Dementia in young children.
Staff also attended sessions which focused around certain issues associated with Dementia and how they could support people.
Rhiw Syr Dafydd Primary School also have close links with Oakdale Manor Residential Home, where residents come to the school for Christmas dinner and attend the school's Christmas concert. Pupils from the school also visit Oakdale Manor to sing to the residents.
Cllr Carl Cuss, Cabinet Member for Social Care and Wellbeing said: "Well done to Rhiw Syr Dafydd Primary School for leading the way in becoming the first school in the county borough to complete the Dementia Friends training. This training has helped to raise awareness of Dementia throughout the school and in the wider community. This training has also benefitted both the pupils and staff, who now have a greater understanding of supporting people with Dementia and their carers".
Mr George, Head Teacher of Rhiw Syr Dafydd Primary School said: "One of the elements of new curriculum talks about 'Ethical, Informed Citizens'. We have begun addressing this and I am delighted that we have been recognised for our work in raising awareness of Dementia amongst staff and pupils. As a school we are always looking at ways of engaging with the local community and the links we have developed with Oakdale Manor Residential home will continue to go from strength to strength".